Congratulations to Hamish Strachan Joining Zappi Racing Team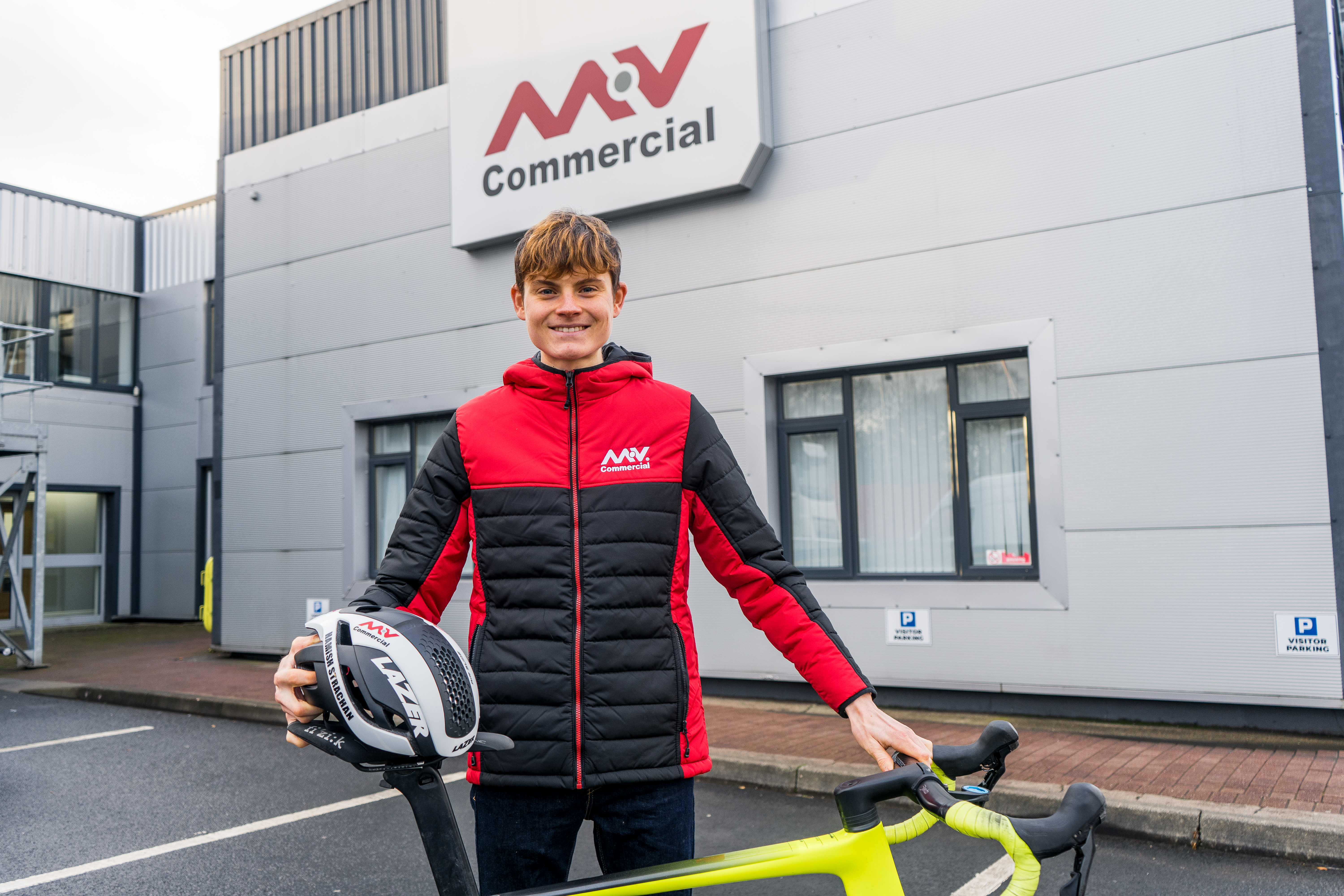 Mv Commercial has been proud to support local Scottish cyclist Hamish Strachan throughout the 2020 season as this young rising star has gone from strength to strength. Now on the eve of his career taking the next step by moving to Italy to join the Zappi Racing Team, we sat down with him to catch up his journey so far and his big plans for the future.
Before we get into your plans and the excitement with Zappi Racing Team, let's look back to the beginning. How did you get into cycling?
I got into cycling because my dad made me go out because I was too lazy and spent too much time on the PlayStation. But as soon as I got out on the bike I was hooked. I loved every aspect of it. As I got more into the sport, I wanted more out of it, so I signed up for the highest sportive in the UK: the 3 Pistes Cycling Sportive, an event that goes over 3 ski centres, Glenshee, The Lecht and Cairngorm. The event itself is 103 miles and is incredibly hard with over 9000 feet of ascent. It was the hardest thing I ever done, but afterwards the event organiser congratulated me for being the youngest person to ever to complete it. This just gave me more appetite for the sport and wanting more from it.
Sounds tough! How do you train for this? What does you average week look like?
My average week of training on the bike consists of two rest days and five days of training. Usually, two of those days are 4-hour rides with prolonged 40 minutes efforts to help build strength in my legs and prevent injury. For the other days of training the ride are generally two and a half hours to three hours long and can consist of sprint intervals, working on my vo2 max by riding as hard as possible or threshold by riding at the limit for 20 minutes. On my rest days I usually have core exercises to complete which help build my stability on my bike which helps build strength and gives me more power on the bike, it also helps to prevent injury.
How was the 2020 season affecting your preparation and training?
2020 has been a strange year for me as I was expecting to be racing every weekend from around mid-March to the middle of October but like most sports cycling was affected by the coronavirus pandemic. This meant that I needed to shift my goals and ambitions for the year. I discussed what we would do with my coach and we decided to keep training hard and focus on online bike racing to get my name recognised more and give me goals to work on.
With reduced competitions throughout 2020, did you take part in any of the esports cycling competitions instead?
Yes, I took apart in a several. I really enjoyed the Zwift races and set some of the best times up Alpe du Zwift and Mont Ventoux on their Strava segments. There have obviously been some difficulties with this year, but I have not had any trouble with my appetite for training and the sport. I have really missed doing proper races on the road and getting the feeling of riding in the peloton and real competition.
British cycling and cyclists are increasingly being more and more popular on the world stage. Do you have any role models or inspirations?
My biggest inspiration would have to be Chris Frome. I look up to him in the sport as he came into not being involved with any cycling association and was able to get into the pro tour by himself which is a lot like me. I really admire his hunger for the sport and how he seems to brush off setbacks. He is also a great role model as he is a gentleman with everyone that he rides with and shows great sportsmanship.
You were signed by Zappi Racing Team in 2020. Joining a team like Zappi must be huge thrill. What are your highlights going to be while racing with them?
Joining Zappi Racing Team has been my biggest achievement so far as it has an incredibly high level of bike riders from all over Europe and it shows me that all my hours of training and all the things that I have sacrificed have paid off. Aside from the coaching and support teams they have, I am really looking forward to some the biggest races on the calendar. These races will be the Giro d'Italia Giovani u23, Emilia Romania and the other stage races in Europe. To be able to compete in these events would be very impressive as some of the participants of the race include past Tour de France and Grand Tour winners. I really want to do the Tour de France!
Next year with Zappi I hope to get an experience racing at an incredibly high level and getting my name known. It will also be a great chance for me to learn how to cope in pelotons with over 160 riders. My main goal in the next year is to get some very good results and hopefully get picked up by a world tour team that would hopefully lead on to me being able to race in the grand tours.
I would like to thank MV Commercial, my sponsor for 2020, for supporting me and helping me make my transition to Italy. MV have been extremely helpful with me over the past year and have been a great asset as I have been able to get training resources and equipment. I would like to say a huge thank you for that and I would be in a completely different position if I did not have their backing.